At Windows on Broadway, we value our customers and treat each client with the respect and professionalism they deserve. We have over 28 years experience in the home improvement field. By keeping our company firmly grounded in providing top-quality service, we have maintained our standards and increased the quality of our company. Our staff offers friendly and experienced service that is unmatched by any other company. Whether you are looking to install or replace your windows or doors, Broadway Windows & Doors offers professional advice and assistance.
For your convenience, we have a wide variety of windows, doors, solar solutions and siding on display at our showroom located at 363 East Broadway - Monticello NY 12701.
With our attention to detail and years of experience, we are able to offer quality installations at a fraction of the usual cost. Using premier, quality products, we can give you the satisfaction that you deserve.
What Our Customers Are Saying About Us

By Brian Soller
Tom and his crew showed up on time and were working within minutes! The entire crew was very professional and helpful and went out of
their way to do a "great" job. I highly recommend Windows on Broadway. Quality/professional work at a fair price. Prior to leaving they did
a complete clean-up of all job related debris!!! Excellent experience!! Thanks Tom!!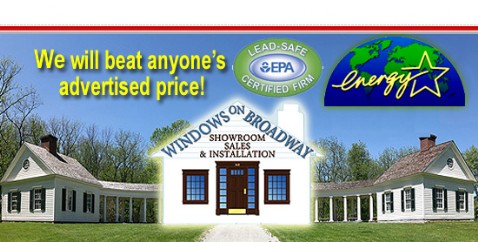 I highly recommend Windows on Broadway!
by Howard Perlman
Windows on Broadway just completed a window replacement on my home. We had another estimate from an Orange County Company but decided to go with the better quality sunrise window that Tom Burke showed us.
Tom's crew did a great job on the windows. The quality of work was excellent and at the end of the project, Tom inspected each window to make sure nothing was missed. We have received a number of compliments from neighbors and friends on how good these new windows look. We are very satisfied with both the product and the quality of work performed. I highly recommend Windows on Broadway!
by Tony Cellini
Tom and his crew arrived promptly at our home at 9:00 a.m. as promised. They immediately commenced work and the old windows were out and the new ones in by noon. The outside trim man stayed until approximately 4:30 p.m. doing a neat and excellent job at all the windows. They cleaned up debris outside and even vacuumed the inside of the house. They laid tarps as to not track outside debris into the house as well. Linda and I are extremely satisfied. It is nice to see a business like this in the Town of Thompson.
Tony Cellini
Sackett Lake
Many businesses up here can take a cue from you!

Just want you to know that your men were true professional in every aspect. You can be proud for having such a crew who can only add to a
successful business. Many businesses up here can take a cue from you. I've had my share of nightmares with different companies so its a pleasure to do business with a company such as yours. Continued success.